There are families that need our help. Your support will bring us a paw closer to re-opening our waiting list again in 2022.
Be a SuPAWhero this month by making a donation today.
Sarah just donated €52.00
Gary and Catriona just donated €52.00
Niamh O'Sullivan just donated €27.04
Catherine just donated €10.40
Edel just donated €10.00
Caroline just donated €12.48
Eddie o Reilly just donated €10.40
Kate Murray just donated €26.00
Marie just donated €50.00
Deirdre Killeen just donated €208.00
Michelle Paddy Egar Gerard Eamon Peter Damien David Siobhan Carol Bernie Marta sanket Ronan Vernon just donated €150.80
Rebecca Collins just donated €30.00
Ana Fernandez Lamothe just donated €26.00
Martin C just donated €52.00
Jeananne and Jane just donated €26.00
Gillian just donated €100.00
Jeannette Mee just donated €52.00
Cora Lacey just donated €26.00
Our mission is simple: To change the world for children with autism.
Our dogs can open up a whole new world of opportunity and possibility for children with autism and their families.
We are also committed to raising autism awareness, understanding and inclusion within the community.
Founded in 2010 we are an Irish national charitable organisation CHY19293
Operating to the highest standards;
Accredited to Assistance Dogs International.
'Triple Locked' (Best practice in transparency & Accountability) members of Charities Institute Ireland
Assistance Dogs
Companion Dogs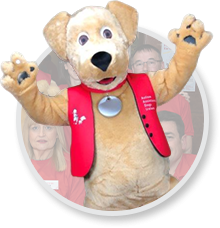 Autism Awareness
Your support today is helping to fund...
Over 300 hours of specialist training, this month, to our future heroes

Over 300 kilograms of food, this month, to fuel our pups in training
Over 300,000 hours of support this year will be provided to children with autism by our assistance dogs
From as little as €3 perweek you can sponsor a puppy in training. As a puppy sponsor you will recieve regular updates enabling you to follow the journey of your chosen puppy as he goes through our foster care programme, on to intensive training and finally matched with a child on our waiting list and placed as an assistance or companion dog. Your support will help change the world for a child with autism.
Where our funds come from... and how they're spent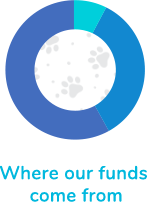 58%
Public donations & fundraising

34%
Corporate fundraising & sponsorship


63c
Training & placing autism assistance dogs

26c
Raising awareness & vital funds

6c
Administration, accounting & governance

5c
Overheads (office, telephone etc)