Our mission is simple: To change the world for children with autism.
Our dogs can open up a whole new world of opportunity and possibility for children with autism and their families.
Watch the short video below to learn more...
Our primary focus is to train and place highly skilled autism assistance dogs. Assistance dogs are trained to the highest international standards to provide safety to children in public places. Assistance dogs enable children to go out and about safely and reduce anxiety not just for the child but for the whole family. They can be a lifeline for children and their families when a child is suffering from the sometimes debilitating symptoms of autism.
In addition to the working assistance dogs, we provide companion dogs. Companion dogs can be a welcome friend to someone who struggles to form relationships with their peers and can help reduce anxiety for children and adults with autism. Whilst they don't have access rights to public places like the assistance dog, they can provide much needed companionship within the home. They also promote responsibility and encourage a healthy exercise routine.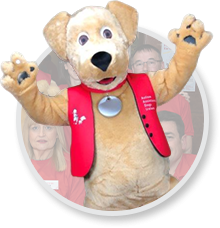 We are also committed to raising autism awareness, understanding and inclusion within the community. To deliver this part of our mission we have developed an Autism Awareness Workshop which we offer to our corporate supporters. We also offer school talks to Primary and Secondary schools throughout Ireland. Finally we attend large events and hold flag days to meet the public, answer any questions and to help educate society.