Autism Assistance Dogs Ireland Urgent Appeal: Help open a world of possibility for autistic children and their families.

Support our urgent appeal
Every year, we receive over 1,000 queries about our assistance dogs. But it takes nearly 2 years to fully train one of these amazing dogs. Fourteen dogs are now in advanced training. They have been in the programme for more than a year, but they require another six months to master specific skills to help autistic children and their families across Ireland who are anxiously waiting.
If we cannot raise funds – and urgently – we will be forced to curtail our assistance dogs' training programme. Meaning a longer wait, for families who are already waiting too long.
The O'Leary family explain the direct result of your generous support. Listen to how Lynn, one of our assistance dogs, transformed the lives of Mikey, his sister Heather and his parents.
Suzanne just donated €31.20
Teresa Lelievre just donated €10.40
Ben Rilot just donated €10.40
Sharon Devine just donated €20.80
Nora Power just donated €50.00
Enda just donated €52.00
Elaine O Halloran just donated €26.00
Catherine Lee just donated €3.12
Martin Kennedy just donated €52.00
Aoife Horan just donated €26.00
Bridie Spelman just donated €26.00
Conor O Callaghan just donated €52.00
JASON FINN just donated €10.00
Audrey Carr just donated €52.00
Joe Haugh just donated €10.40
ANTHONY TRILL just donated €25.00
Michael & Darragh Helebert just donated €52.00
Peter Gallagher just donated €52.00
Mike Butler just donated €20.80
Siobhan Silke just donated €52.00
Please support our urgent appeal to raise €100,000 now to get these dogs through the final stage of their training. Every euro will help bring about wonderful changes that will carry forward into the adult life of each autistic child.

Donate

Every gift will make an enormous difference and will transform the life of an autistic child, allowing them to feel safe and confident in their world, opening up so many experiences to them for the very first time.


Our mission is simple: To change the world for children with autism.
Our dogs can open up a whole new world of opportunity and possibility for children with autism and their families.
We are also committed to raising autism awareness, understanding and inclusion within the community.
Founded in 2010 we are an Irish national charitable organisation CHY19293
Operating to the highest standards;
Accredited to Assistance Dogs International.
'Triple Locked' (Best practice in transparency & Accountability) members of Charities Institute Ireland
Assistance Dogs
Companion Dogs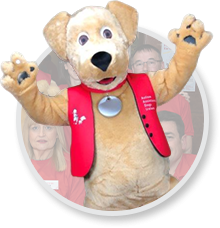 Autism Awareness
Your support today is helping to fund...
Over 300 hours of specialist training, this month, to our future heroes

Over 300 kilograms of food, this month, to fuel our pups in training
Over 300,000 hours of support this year will be provided to children with autism by our assistance dogs
From as little as €3 perweek you can sponsor a puppy in training. As a puppy sponsor you will recieve regular updates enabling you to follow the journey of your chosen puppy as he goes through our foster care programme, on to intensive training and finally matched with a child on our waiting list and placed as an assistance or companion dog. Your support will help change the world for a child with autism.
Where our funds come from... and how they're spent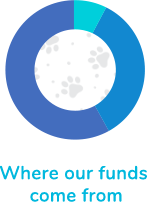 58%
Public donations & fundraising

34%
Corporate fundraising & sponsorship


63c
Training & placing autism assistance dogs

26c
Raising awareness & vital funds

6c
Administration, accounting & governance

5c
Overheads (office, telephone etc)