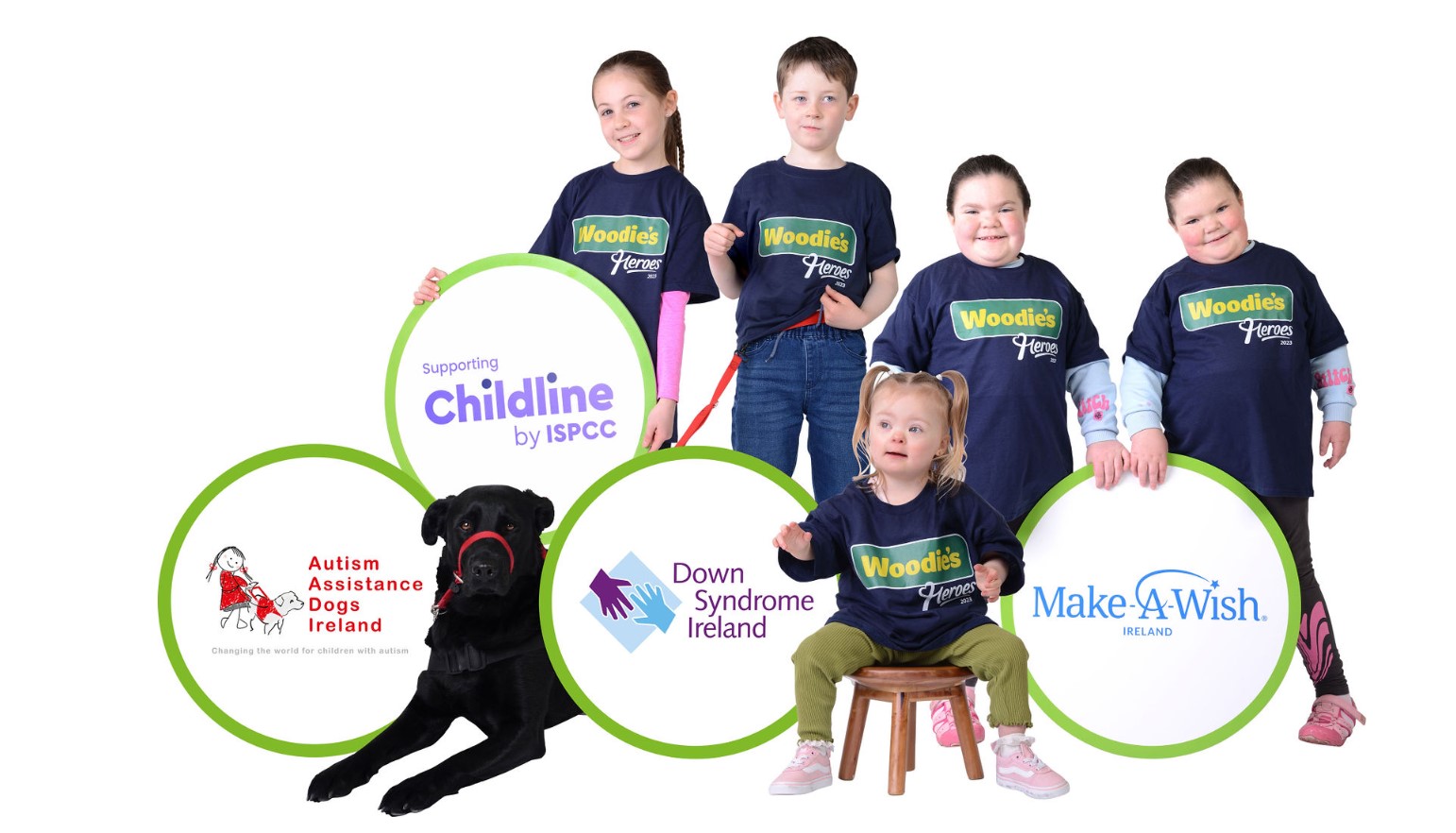 Autism Assistance Dogs Ireland are delighted to be one of the charities to benefit from this year's Woodie's Heroes Campaign!

The 2023 Woodie's Heroes campaign launched at the weekend, raising vital funds for four Irish charities. This is the 8th year of Woodie's Heroes which has raised €3 million for Irish children's charities since 2016. This year, the Woodie's Heroes campaign will run from 16th July to 12th August.
The charities are chosen by Woodie's colleagues through a vote. As well as Autism Assistance Dogs Ireland, this year's beneficiaries are ISPCC Childline, Down Syndrome Ireland and Make-A-Wish Ireland.
100% of donations go directly to the charities and are divided equally among them. It's easy for customers to get behind the initiative with three easy ways to donate:
Donate instore at the till

Scanning the iDonate QR code to donate online


Simply texting one of the below keywords to 50300 to donate €4:

ISPCC to 50300 to support ISPCC Childline

AADI to 50300 to support Autism Assistance Dogs Ireland

DSI to 50300 to support Down Syndrome Ireland

MYWISH to 50300 to support Make-A-Wish Ireland
Texts cost €4. AADI will receive a minimum of €3.60. Service provider LIKECHARITY. Helpline: 01 481 9311
This year, Team Woodie's will be taking part in the Woodie's Heroes 100 Challenge: whether you're a sea swimmer, a baker or a seasoned 5k'er - there's something for everyone. The challenge is simple - do 100 of anything you enjoy across the 28 days of the Woodie's Heroes campaign. You can go solo or take it on as a team, the challenge is something everyone can take part in and enjoy. You could walk 100km over the 28 days or bake 100 cakes, maybe it's cycling 50km each as a team of two or it could be reading 100 books - the options are endless!
Jacob H Harmon, Head of Advancement at AADI, said:
"We are delighted to partner again with Woodies on their Heroes Campaign. Not only does this effort raise substantial mission-critical funds that goes directly to training more Autism Assistance Dogs, but Woodies is a great partner in educating the public about what Assistance Dogs do and how they create positive change for families with autistic children. Our dogs provide a layer of safety that enables families to live fully connected lives. That leads to healthier families and healthier, more inclusive communities!"
Autism Assistance Dogs Ireland – Daniel & Piper's Story
Daniel and his assistance dog Piper are this year's Heroes ambassadors for Autism Assistance Dogs Ireland.
Before Piper's arrival to the Gilsenan family, Daniel was a constant flight risk and even the simplest of tasks of going to the shop for milk was extremely difficult. However, since Piper joined the household, the whole family's lives has been transformed. According to Mark, Daniel's dad, Piper is a "gentle leader", keeping Daniel comfortable and calm.
One recent example of Piper saving the day was Daniel's First Holy Communion. Pre-Piper Daniel found it very challenging to sit still in one place for a prolonged period of time, however, since Piper's arrival, everyday tasks and outings have become more enjoyable for both Daniel and his family. Daniel was able to sit through his full Holy Communion ceremony with a proud Piper by his side and an even prouder family watching on. The Gilsenans are a big GAA family, and have also been able to attend matches together with Piper keeping Daniel safe and comfortable.
Autism Assistance Dogs Ireland (AADI) receives over 300 yearly applicants but can only fulfil approximately thirty requests. It costs €25,000 to train and support one dog throughout their lifetime. The funds raised through Woodie's Heroes campaign will enable AADI to expand our puppy programme and change the lives of more children who need the support of a dog like Piper.
Any contribution you can make to the campaign will be gratefully received!